Olt News: Microsoft Windows 2020 RESCUECOM Computer Repair Report
Microsoft Windows 2020 RESCUECOM Computer Repair Report
SYRACUSE, N.Y., March 30, 2020 – Windows is the most widely used operating system in the world, but there are a number of problems that seem to persist.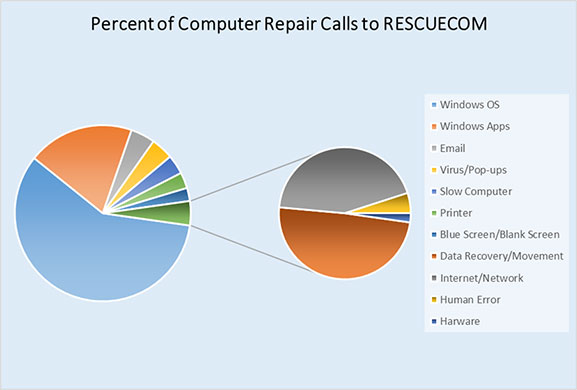 Microsoft released Windows 10 in 2015 and with its initial release came a mess of problems for users. However, over the past 5 years, Microsoft has worked hard to provide updates that address some of these issues. However, these updates are never perfect and often leave the user wanting. As an operating system riddled with problems, it's no wonder that Windows operating system and application issues are at the top of the list of computer repair calls made to RESCUECOM. You would think that after years of troubleshooting and design, they would have found ways to fix these problems from the start, but this is unfortunately not the case.
One of the most common problems with Windows is that after an update the system does not start properly. While it is essential to make sure that your computer has the processing power and space to handle the new update, the problem sometimes comes from the update itself. Starting in safe mode and using the Windows Update troubleshooter can help resolve the issue.
Windows users also frequently find that their computers are running slowly. Having too many startup items or too many programs running can easily slow down. Use Task Manager to remove any unnecessary or unused programs and startup items. It is also important to ensure that there is enough space on the hard drive to operate at maximum speeds. Using the Disk Cleanup application to erase the hard drive of all the files you no longer need will free up space and increase performance.
Another common problem with Windows relates to printer connectivity issues. Fortunately, there is a simple solution: just delete your current printer driver, and then install the updated drivers for your printer model, from the manufacturer's website.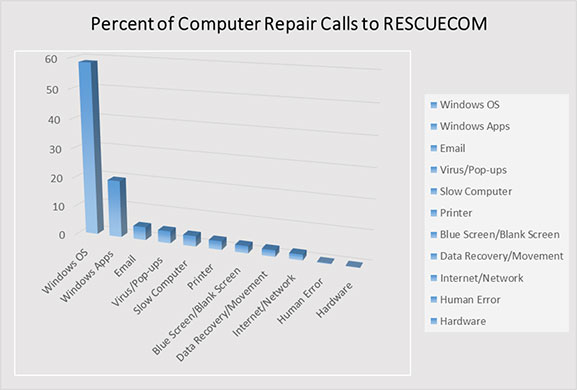 However, the most frustrating problem with Windows is its sensitivity to viruses and malware attacks. While Microsoft has improved the production of solid security solutions, it's still not enough. "Keeping reliable, paid, and up-to-date virus protection and firewall is essential to staying safe when using your Windows computer." said David A. Milman, CEO RESCUECOM. He continues, "It will also save you a lot of headaches."
As one of the millions of users, it will be almost impossible for you to avoid experiencing at least one of these problems. Microsoft offers comprehensive assistance through online forums and its comment center, but even then it is often necessary to contact a Microsoft certified computer repair service who can find the fix for you.
Since Microsoft is slow to create solutions, it is obvious that Windows problems make up the majority of all computer repair calls to RESCUECOM.
All of the Microsoft Windows RESCUECOM computer repair issues that have been resolved in the past year are as follows:
Rank
Issue

Percentage

%

1
Windows OS
58.40%
2
Windows Apps
19.40%
3
Email
4.40%
4
Virus/Pop-ups
4.00%
5
Slow Computer
3.50%
6
Printer
2.90%
7
Blue/Blank Screen
2.40%
8
Data Recovery/Movement
2.10%
9
Internet/Network
1.90%
10
Human Error
0.20%
11
Hardware
0.09%
---
Media Contact Information
David A. Milman, C.E.O.
Phone: +1.315.433.0002
Google Reviews
Michael Bender
a week ago
The most awesome professional service. They fixed major issues
...
The most awesome professional service. They fixed major issues

less

Joyce Kelly
a month ago
What a great experience I had with Roy tonight! My computer was hacked and he worked through gettin
...
What a great experience I had with Roy tonight! My computer was hacked and he worked through getting everything restored with great competence and we had a great time chatting as we got through it. He also gave me some great tips on keeping my personal information safe, which I greatly appreciated. I also had the pleasure of speaking with David Millner and he assured me from the start that they would fix the problem and they have! I have truly enjoyed this first experience with this company and hope I have many more!

less

James Skaggs
2 months ago
In my conversations with David & Roy, (very professional in knowledge and listening to my compla
...
In my conversations with David ~amp~ Roy, (very professional in knowledge and listening to my complaint and solving it to a very professional level is OUTSTANDING! My hat is off to these folks. I highly recommend them to anyone that has a computer problem/s.

less

David Kisyua
4 months ago
very professional, efficient, excellent quality serviceI highly recommend David Milman and his team
...
very professional, efficient, excellent quality serviceI highly recommend David Milman and his team without reservations.

less
View all Google reviews
Featured in: