Apples Have Some Issues, But Not Many
RESCUECOM: Startup difficulty is the most common problem for Mac users
By appleworld.today
Posted on March 18, 2019
Apple's Macs and the macOS are widely thought of to cause very few problems for the millions of people who use them. However, the most common problem is startup difficulty, according to a new RESCUECOM Computer Repair Report.
This typically involved the computer failing to start up properly, leaving users with nothing more than a blank screen or in some cases a gray startup screen rather than their desktop, per the report, which compares the brand market share of computer makers with their repair share, based on the number of computer repair calls received per brand, to create an overall reliability score.
The best option in these cases is to boot up in Safe Mode. The Mac will automatically start with the bare minimum software and drivers needed to run. It will then run a diagnostic check and repair any software issues causing the problem.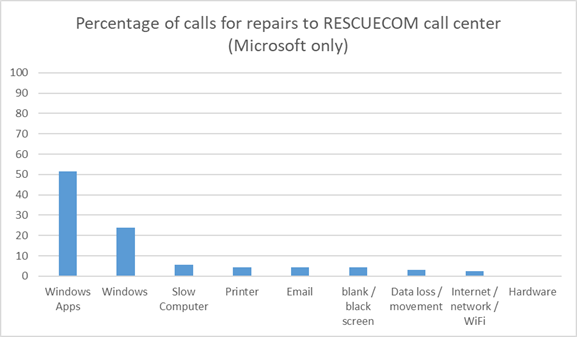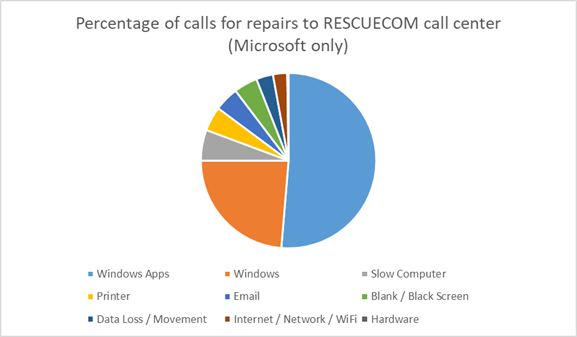 RESCUECOM says Mac users sometimes face the "White Screen of Death" or the spinning beach ball when processes or apps freeze. When the computer is frozen in this white screen, it will be unusable until it is restarted. The fix for this is simple: upon restarting, open the macOS Utilities menu using the option and R keys. From there, you can use disk utility ("repair disk"), and the problem is solved. For the spinning beach ball, you can use your activity monitor to force programs using too much memory to quit.
Another issue affecting Mac and Apple users is caused by apps which are incompatible with macOS automatically opening upon startup but causing problems because of their incompatibility, according to RESCUECOM. This can cause your computer to fail to boot up. The only way to find out what app is causing the problem without professional tech support is to check the startup disk in utilities.
Conveniently, it's not difficult to find the culprit, as your Mac will automatically move all such software into a folder labeled "Incompatible Software" on your startup disk. You can then choose to simply delete it if it is not important to you, or you can find an updated version on the Apple store to download.
There are a few more, much smaller issues, according to RESCUECOM, that Macs can run into as well as the larger problems above. An app may freeze, causing you to be unable to do anything include closing it. You can force the app to quit using the Command-Option-Escape key combination.
A Mac may sometimes quit connecting to your regular Internet network for seemingly no reason, and you can almost always solve this by going into your network settings, forgetting your network, and then reconnecting again.
If you have an issue due to faulty hardware, Apple provides a diagnostic suite to test and fix them. This is the Apple Hardware Test for older models and Apple Diagnostics for any computers built in 2013 or later. You can access both by holding the D key after restarting.
MacOS issues and those caused by Mac apps thus far this year are the two least common issues calling for Mac computer repair. Those issues include: slow computer (5.24%); printer issues (4.15%); email problems (4.13%); computer won't boot/beach ball or black screen (4.02%); data lost or can't be moved (2.80%); Internet connection/network or WiFi issues (2.42%); hardware difficulty (0.22%); concerns with macOS (0.03%); and Mac apps (0.00%).
Google Reviews
Michael Bender
a week ago
The most awesome professional service. They fixed major issues
...
The most awesome professional service. They fixed major issues

less

Joyce Kelly
a month ago
What a great experience I had with Roy tonight! My computer was hacked and he worked through gettin
...
What a great experience I had with Roy tonight! My computer was hacked and he worked through getting everything restored with great competence and we had a great time chatting as we got through it. He also gave me some great tips on keeping my personal information safe, which I greatly appreciated. I also had the pleasure of speaking with David Millner and he assured me from the start that they would fix the problem and they have! I have truly enjoyed this first experience with this company and hope I have many more!

less

James Skaggs
2 months ago
In my conversations with David & Roy, (very professional in knowledge and listening to my compla
...
In my conversations with David ~amp~ Roy, (very professional in knowledge and listening to my complaint and solving it to a very professional level is OUTSTANDING! My hat is off to these folks. I highly recommend them to anyone that has a computer problem/s.

less

David Kisyua
4 months ago
very professional, efficient, excellent quality serviceI highly recommend David Milman and his team
...
very professional, efficient, excellent quality serviceI highly recommend David Milman and his team without reservations.

less
View all Google reviews
Featured in: