Apple Glory Viewers Receive New Desktop Report
Need an excellent desktop? RESCUECOM recommends the iMac
By appleglory.com on November 30, 2017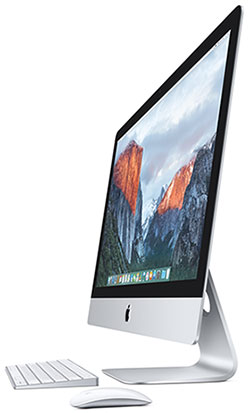 While many find that a tablet or a laptop (or, for some, even a phone) is all they need, there are others who want to compute the old fashioned way - on a desktop. David Milman, president of RESCUECOM, a computer repair company, says Apple's iMac is an "excellent computer" that's less than half the price of Microsoft's Surface Studio (though he recommends the Studio as the best-in-class for desktops over $4,000).
Milman says the latest iteration of the iMac is by far the best to date. The 21.5 inch version comes with a massive 1TB drive, usually reserved for models in a much higher price range. 4K refers to the iMac's 4K impressive Retina display, which offers a quality of graphics, brightness, color, and clarity most typically found in higher-priced models.
"It is exceptional, particularly for such a large screen," says Milman. "Like previous models, the new iMac remains incredibly thin, not to mention lightweight. It is extremely powerful as well as attractive, and it offers a great deal of connectivity with a variety of USB and Thunderbolt ports for more data storage and a memory card slot."
While it is far less expensive than the Surface Studio, the iMac 4K is still not the cheapest computer out there. However, Milman says its value is far higher than anything else in a similar price range. That makes the best thing about the 21.5 inch iMac 4K the fact that it offers extremely high-end quality and performance at a mid-range price, he adds.
RESCUECOM provides comprehensive computer repair and tech support, 24/7. RESCUECOM Certified Level-3 technicians provide immediate computer support through our patented software. To learn more about RESCUECOM's products and services visit http://www.rescuecom.com or call (315) 433-0002.
---
Media Contact Information
David A. Milman, C.E.O.
Email: ceo@rescuecom.com
Phone: +1.315.882.1100
Google Reviews Patricia Farr
in the last week
Rescuecom has once again rescued me. This time from a potential identity theft situation, and then a
...
Rescuecom has once again rescued me. This time from a potential identity theft situation, and then after solving that, updating all security and operating systems. All with incredible patience and expertise in what for me was a very distressing situation. My level 3 tech Maddy spent literally days getting everything straightened out and David gave me some tips and advice that I have used. The technicians at Rescuecom are for me the best and most professional, and are always there to help quickly, with understanding and kindness, when you need them most.

less

Carol Vaupel
a month ago
I would give him 5 stars.
...
I would give him 5 stars.

less

Cynthia B. McCoy
a month ago

Sue Baran
a month ago
Jim P. was very good in explaining why a call was inputted and explained the updates that he was goi
...
Jim P. was very good in explaining why a call was inputted and explained the updates that he was going to do from both Windows and Rescuecom. After completed he helped with some boot up programs to be disabled to help give me a little more "speed" in startup. Great experience.

less
View all Google reviews
Featured in: