Windows 10 Causes Computer Repair Problems for Customers
Windows 10 bumps up support-call traffic
By windowssecrets.com on November 12, 2015
A major operating system upgrade always brings new problems — and a slew of frantic calls to tech-support services.
Queries about a new OS often go well beyond learning a user interface; drivers and applications have to be updated, and no amount of beta testing ensures that everything works.
All this is especially true of the Windows 10 upgrade. Users flocked to the new OS in record numbers. Many waited eagerly for months to try the Win8 replacement; others leaped at the apparent bargain of a free upgrade. And others, who didn't even want Win10, got it anyway, thanks to Microsoft's aggressive upgrade policies.
Recently, the large support company RESCUECOM (website) reported that 56 percent of the calls it received in the third quarter were Windows 10 related — and Win10 didn't officially ship until the quarter was nearly a third over.
Curious about the most common Win10 issues, I interviewed RESCUECOM CEO David Milman, via email. Knowing more about possible upgrading traps makes it easier to avoid or fix them.
RESCUECOM is a subscription-based tech-support and repair company for Windows, Macs, tablets, and phones. Subscriptions start at U.S. $30 a month and include both tech calls and house calls (at no extra cost).
Milman wouldn't tell me how many subscribers the company has, but he stated that RESCUECOM has over 6,500 employees and contracted freelancers, which gives you an idea of its size.
Note: Aside from researching and writing this article, I have no connection with RESCUECOM. I've never used, tested, or reviewed the service. So I can't say whether it's better or worse than its competitors.
With the Win10 release, the phones start ringing
Milman noted that RESCUECOM always sees a surge in calls when an operating system gets a major upgrade. But Win10 was unusual; the volume of calls has been about double that of previous Windows releases. Most of the support questions "focused on problems with usability and a desire to revert [to Windows 7 or 8], instead of how to use the new OS," according to Milman.
The upgrade caught many users by surprise; they didn't understanding why their desktop suddenly looked different. According to Milman, "Microsoft was either brilliant or sneaky (the jury is still out) in how it delivered Windows 10, [which] appeared on just about every Windows 7 and Windows 8 (8.1) computer on the planet." (That doesn't include the many corporate systems.)
However, the majority of RESCUECOM callers were better informed. They had actively — perhaps even enthusiastically — updated their systems. But then they discovered that Windows 10 didn't always behave as advertised.
Milman noted that he ran into problems on his own machines and reverted one system back to Win8.1. "One of my two NVIDIA graphics cards was incompatible, and I didn't feel like spending the time to chase down the correct drivers."
(As described in the Aug. 27 Windows Secrets Top Story, "Thirty-day Win10 experiment lasts only a week," I had my own share of Win10 upgrade disasters — most of which have been resolved.)
Drivers drive Win10 upgraders to drink
Hardware failures — mostly due to incompatible drivers — are a common problem with new operating systems. "Some hardware will not [immediately] work with Windows 10," Milman told me. "Some older products may never get windows 10 drivers."
Milman suggests opening Windows' Device Manager to find misbehaving drivers. (Right-click the Start icon and select Device Manager from the pop-up list.) Typically, a small yellow warning flag will be attached to the icon for a problematic device.
That is, of course, if you can use your computer at all. Bad video drivers can result in a black screen. For driver issues this severe, try booting into Safe Mode and downloading the correct drivers from the hardware manufacturer's site. (Win10 doesn't make it easy to run Safe Mode. For more info, see the Sept. 17 Field Notes, "Lost and found: Windows 10's safe mode.") Open Device Managers again, right-click the failing hardware, and select Update Driver Software.
When a favorite app doesn't survive the upgrade
Most applications that work in Windows 7 and 8 should work in Win10 — but sometimes they don't. And XP-era applications are especially problematic. For in-place upgrades, Microsoft suggests running the system-compatibility checker that's in the Get Windows 10 option menu (see Figure 1).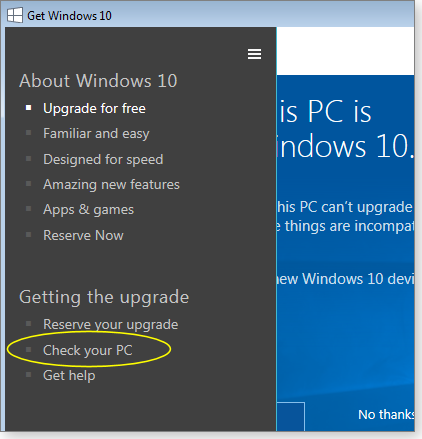 Figure 1. The Get Windows 10 compatibility checker will list problematic applications and system configurations.
Milman surprised me when he noted that many callers complained that their antivirus program no longer worked after the Win10 upgrade. But most of these callers were uninformed users running outdated AV software (which is scary, even without an OS upgrade). Updating the security software always fixed that problem. (The Win10 upgrade process is supposed to uninstall third-party AV apps and then reinstall them, but apparently that doesn't always work.)
You probably know enough to keep your antivirus up-to-date. But if any type of program refuses to run in Windows 10, you should always check for a newer version. You can also try running it in the Windows compatibility mode (see Figure 2). For more information, see the Oct. 15 LangaList Plus item, "Tools for running old software on new Windows."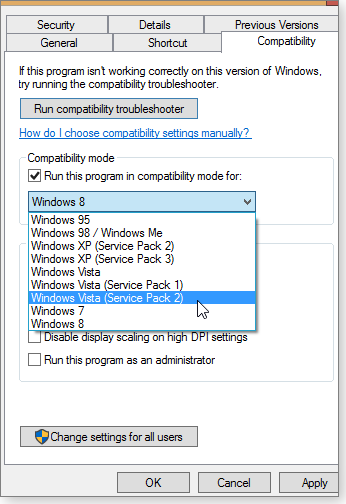 Figure 2. If an app doesn't run well in Win10, you can try running the Compatibility mode option in the Properties dialog box.
Note that Microsoft recommends backing up your personal information, installing all offered Windows updates, and getting the most current versions of all apps before migrating to Win10.
Rolling back Win10 — or avoiding it completely
It was no surprise that many callers wanted to return to Win7 or 8.1. But I was surprised that reverting to the previous OS didn't always work — even within the 30-day grace period. "The failed reverts were most troublesome," Milman told me. "In the most dramatic cases, we did a data recovery from the drive and did a fresh install of the older OS."
The lesson here — actually a familiar reminder — is to always back up your full system before making any significant changes to it. (And upgrading the OS certainly qualifies as the most significant change you can make to a PC.)
If you do roll back — or never allow the upgrade to happen — you've got another problem: Microsoft will continue to push the upgrade. How do you stop that? Milman suggests you "edit the way icons are displayed in the tray," then "go into the control panel and look for a specific installed update and remove and/or hide it."
I have a better solution. Download and run the free GWX Control Panel (webpage). Once it's up, click the two lower buttons: Disable 'Get Windows 10' App (permanently remove icon) and Disable Operating System Upgrades in Windows Update. I discussed this in more detail in a recent PCWorld article.
The various liabilities of Windows 10
That many people struggle to avoid Windows 10 speaks volumes about its problems. Like many, many others, I eagerly awaited this upgrade — then was disappointed with the results. Not only does it have technical problems (inevitable with a major OS upgrade), but it suffers from privacy issues and an aggressive upgrade policy that makes upgrading actually difficult to avoid.
In the past, I've recommended that Windows users wait three month before upgrading to a new version of operating system; RESCUECOM recommends six months. (And not just for Windows; Milman has the same recommendation for Macs, too.) Advanced Windows users can work through the problems with the new OS, but for novice and casual users, I think I'm going to start recommending a six-month wait, as well.
Google Reviews

George Patterson
a month ago
I had the pleasure of contacting Rescuecom today for computer issues. I was directed to Roy who help
...
I had the pleasure of contacting Rescuecom today for computer issues. I was directed to Roy who helped me with my problems. Roy exhibited expert knowledge of the issue and as a result I am back in service with my business. I cannot say enough good things how I was treated from the initial contact with the company and with Roy. Highly recommended!

less

Swapnil Singh
a month ago
Rescuecom is a great service providing company for the computer issues and security! It's a great to
...
Rescuecom is a great service providing company for the computer issues and security! It's a great to have them.

less

Carli Wittkowski
2 months ago
Amazing service! This is my first time with Rescuecom and I am extremely pleased. Great Customer se
...
Amazing service! This is my first time with Rescuecom and I am extremely pleased. Great Customer service and so very helpful. I would most definitely recommend.

less

Karen Beller
2 months ago
Rescuecom is excellent. I was scammed and Roy cleared my desktop. Excellent service and Roy was very
...
Rescuecom is excellent. I was scammed and Roy cleared my desktop. Excellent service and Roy was very knowledgeable. Thank You.

less
View all Google reviews
Featured in: