Sites Stealing Money With Bin Laden Picture Scam
Looking for bin Laden death pictures? Beware!
CNYcentral.COM
May 3, 2011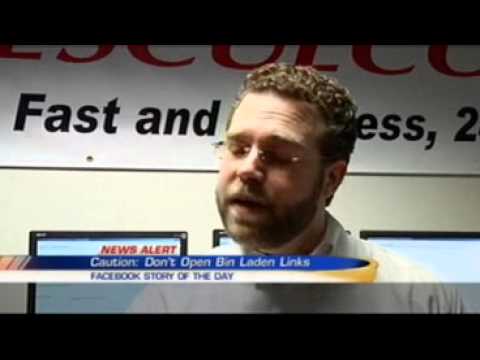 SYRACUSE -- It's one of the most searched items on the web right now, but if you click on Osama bin Laden death pictures you'll get several sites offered - with gruesome images that are Photoshopped. But, beware! Click for a better image and you'll be taken to a site that will infect your computer - with the offer to clean out the virus for $59.95. What to do?
Josh Kaplan, President of Rescuecom, says don't click on a site you don't know. If you run your cursor over an image before clicking, the 'source' web address will come up. If you don't recognize it, don't go there. If you think your computer's anti-virus protection will save you, Rescuecom reminds you that if you disable it to allow pop-ups or other messages, you're disabling your protection.
As for the $59.59 fix, Kaplan says most of those sites will take your money... with no fix in return.
Kaplan says the virus is being put into online images, but it's also showing up in links on email and Facebook, where hackers are posing as acquaintances or 'friends'. The same advice applies: don't open messages or attachments from sources you don't know well or trust.
This story was suggested by our Facebook fans, as our Facebook Story of the Day. You can go on our Facebook Page to comment on it.
Google Reviews

Patricia Farr
in the last week
Rescuecom has once again rescued me. This time from a potential identity theft situation, and then a
...
Rescuecom has once again rescued me. This time from a potential identity theft situation, and then after solving that, updating all security and operating systems. All with incredible patience and expertise in what for me was a very distressing situation. My level 3 tech Maddy spent literally days getting everything straightened out and David gave me some tips and advice that I have used. The technicians at Rescuecom are for me the best and most professional, and are always there to help quickly, with understanding and kindness, when you need them most.

less

Carol Vaupel
a month ago
I would give him 5 stars.
...
I would give him 5 stars.

less

Cynthia B. McCoy
a month ago

Sue Baran
a month ago
Jim P. was very good in explaining why a call was inputted and explained the updates that he was goi
...
Jim P. was very good in explaining why a call was inputted and explained the updates that he was going to do from both Windows and Rescuecom. After completed he helped with some boot up programs to be disabled to help give me a little more "speed" in startup. Great experience.

less
View all Google reviews
Featured in: