Secure Your Wireless Network So People Can't Access Your Signal
Do you know who is using your internet connection?
CNYcentral.COM
April 14, 2011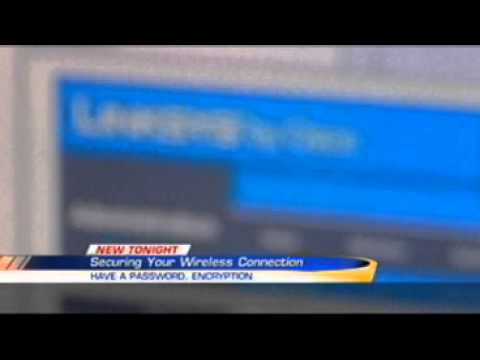 SYRACUSE -- Do you know who is using the Internet connection you are paying for?
If it's not secure. The answer is no.
A North Syracuse man admitted he used his neighbor's Internet connection to download child pornography. 30-year-old Jesse Reed plead guilty in U.S. District Court. He now faces a maximum sentence of ten years in prison and a $250,000 fine.
You don't want someone committing a crime on your Internet connection and you don't want someone stealing from you on there. If your Internet connection is open, someone who knows what they are doing could hack into your online banking, your emails and even see what you have on your computer.
"If it's secure it's not so easy," says David A. Milman, CEO of RESCUECOM, a computer repair and support company based out of Syracuse. "If you have locked down your network and it's secure then it's not so easy but most people don't do that because this stuff is complicated."
Milman estimates 40 percent of people don't have their wireless router secured. Anyone with a wireless router wants to make sure it's secure so that strangers aren't using it to steal Internet access. If your system is not secure, you have no control over who is using it and what they are looking at or doing.
Milman says there are some steps people can take to stay safe. There's encryption, which is special way of formatting your personal information so that the only person that can view it online is you. Most importantly, you want to have a password and a password that's difficult for a potential hacker to figure out.
"Make it something that has a non-alphanumeric character, which means it's not A through Z and not a number zero through nine," Milman says. "It's an exclamation, a bracket, a carat that most people would never think of to hack into your system."
Everything online should have a password, according to Milman. That includes online banking, Facebook, and Twitter accounts.
"Remember this is reputation management," Milman says. "It's not only your banking information. It's your reputation, which today is everything."
Anyone can tell if you don't have a secure network. They can see it when they click on networks available on their computer.
Google Reviews

Patricia Farr
in the last week
Rescuecom has once again rescued me. This time from a potential identity theft situation, and then a
...
Rescuecom has once again rescued me. This time from a potential identity theft situation, and then after solving that, updating all security and operating systems. All with incredible patience and expertise in what for me was a very distressing situation. My level 3 tech Maddy spent literally days getting everything straightened out and David gave me some tips and advice that I have used. The technicians at Rescuecom are for me the best and most professional, and are always there to help quickly, with understanding and kindness, when you need them most.

less

Carol Vaupel
a month ago
I would give him 5 stars.
...
I would give him 5 stars.

less

Cynthia B. McCoy
a month ago

Sue Baran
a month ago
Jim P. was very good in explaining why a call was inputted and explained the updates that he was goi
...
Jim P. was very good in explaining why a call was inputted and explained the updates that he was going to do from both Windows and Rescuecom. After completed he helped with some boot up programs to be disabled to help give me a little more "speed" in startup. Great experience.

less
View all Google reviews
Featured in: