Dangerous for Customers to Use Free Wi-Fi at Shops and Cafes
Feb 27, 2006
By RICHARD MULLINS, The Tampa Tribune:
Sip and Surf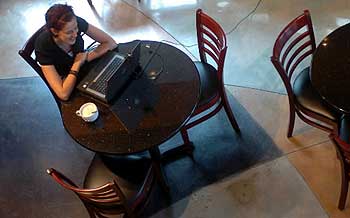 Photo by CRYSTAL L. LAUDERDALE
Kerstin Ledesma, 32, takes advantage of the free Wi-Fi access
offered at La Casa Dolce in south Tampa.
More and more coffeehouses in the Tampa Bay area are adding the
service to lure patrons who need to be plugged in all the time.
TAMPA - J.J. Higgins drove around Tampa for an hour looking for one thing - a coffee shop with something more than coffee. Not muffins, not scones, not exotic chai tea. He wanted Wi-Fi Internet access, and preferably free.
"I'm a musician from Nashville [Tenn.] and my producer sent me some music that I have to download," said Higgins, 29, a singer in the gospel/rock band "Deep Waters Edge." Dashing into Mirta's Gallery and Coffee House downtown, Higgins hit paydirt- free wireless broadband, no password required.
"I'm always doing work on the road - I need the access.
" Mobile and hungry customers like Higgins, searching for their digital oasis, are just the kind of customer that franchise and independent coffee shops increasingly want to attract. And more coffee shops in Tampa Bay are coming to believe Wi-Fi access is as necessary an in-store perk as cream and sugar for bringing in more diverse, affluent, urban and socially well-connected customers.
Starbucks locations have offered wireless Internet access for several years to great success. Panera Bread locations - the one at Kennedy Boulevard and Dale Mabry Highway is popular - are now winning Tampa's digital class.
The Indigo Coffee company in Tampa started offering Wi-Fi access at all its new sit-down locations, including the newest in Hyde Park Village.
"This brings in a diverse clientele," said Joe Timberlake, president and co-founder of Indigo Coffee. "We see students, business people, everyone, just spending time with their laptops. Sometimes they buy three lattes, sometimes just a bottled water."
The Mirta's Gallery and Coffee House where Higgins found his digital oasis, opened in December, and customers quickly started asking for wireless Internet. With the store just blocks from The University of Tampa, co-owners Duane and Alice Hall saw wireless as a way to bring in students looking for peace and quiet outside their dorms.
The day their Wi-Fi system starting working last month, Duane taped a handwritten sign on the front window- "FREE INTERNET ACCESS."
Lewis Robert Jr., owner of the NOLA Cafe in downtown Tampa said his customers enjoyed Wi-Fi for free for months, but not from his shop.
"The shipping company next door had wireless and my customers could pick it up for free," Robert said. "But they locked it down a few weeks ago and I'm going to have to buy our own system. People expect it."
The popularity of Wi-Fi hotspots plays on several trends-
Prices of wireless equipment and faster Internet access are dropping. Some antennas cost less than $50, though computer security experts say it's a very bad idea to plug an antenna into a shop's own computer for customers reach the Internet.
New wireless equipment, such as Wi-Fi, requires no license to use, no government permission to operate. So anyone with an interest, can plug a wireless antenna into their computer or network and become a "hotspot."
More Americans work on the go. Working on the road often means meeting clients or co-workers somewhere, presumably not a living room or spare bedroom turned into an office - and coffee shops have become convenient meeting spots.
Those trends add up to explosive growth in the number of public Wi-Fi hotspots.
In 2004, the San Francisco-based wireless research firm JiWire logged more than 50,000 hotspots in the United States. In 2005, those ranks doubled to more than 100,000. The company's list is extensive, but because Wi-Fi requires no license, listings are voluntary.
JiWire lists 133 public hotspots in Tampa (55 within five miles of The Tampa Tribune office downtown) including 24 cafes and coffee shops. JiWire counts 33 in St. Petersburg.
Lee Rainie, director of the research firm Pew Internet and American Life Project that studies how the Internet affects society, notes many Americans have come to expect wireless Internet access anywhere- cafes, airports, hotels, restaurants and parks.
"My daughter's in Paris right now and she's really annoyed that Wi-Fi's not everywhere she goes," Rainie said. Between 90 million and 100 million Americans are online at any given day, Rainie said, and a survey his group conducted in January found 44 percent of Internet users regularly gain access someplace other than work or home.
That's a powerful argument for coffee shop owners to go wireless, Rainie said. American's on the go now expect everyone else to be online too - at a work, a coffee shop or elsewhere.
Costs vary widely to make that kind of access available to coffee-drinking customers.
Off-the-shelf Wi-Fi antennas cost about $50, and are sold at most electronics stores. In theory, coffee shop owners could plug one into their office PC, and let customers use their company Internet service.
"The danger with that is anyone within 100 feet can log into the network and snoop on customers, or the shop's computer," said David Milman, chief executive of the Syracuuse-based computer service company Rescuecom Corp. "From the standpoint of a coffee or burger shop, that's awful."
Even novice hackers can gain access to the shop's own accounting program, or worse, credit card processing account. A better, safer route is to set up a separate computer, with a dedicated Internet account and log-in system that keeps track of customers. Such systems can cost several hundred dollars, even $2,000 or more with equipment. But it also limits the shop's risk and liability if customers cause problems or surf criminal web sites.
"In the end, there is no free lunch," Rescuecom's Milman said. "If you offer customer's something with free access, you and them have to be prepared for everyone to have free access to their own computer too."
Indigo Coffee built a system for a few hundred dollars for each cafe, Timberlake said. As an extra service, Timberlake decided to include network plugs at each cafe table so customers can log into the Internet without using wireless signals. The investment easily pays for itself, he said.
"People are looking for this service," he said. "And we get a lot of good business through it."
WIRELESS PROTOCOLS
For Coffee Shops
DOs
Consider a regulated Wi-Fi Internet system where customers sign into a Web site run by a reputable vendor to reaches the Internet. (Similar to most hotel Wi-Fi systems) This can discourage hackers and help secure and track customers.
Use a computer service company to manage the network.
DON'Ts
Keep sensitive documents or financial information on any computer wirelessly connected to your customers.
Use the same computer to run the company's business and Wi-Fi Internet access for customers, especially if one computer also processes credit card transactions or online banking.
For Customers
DOs
Install a personal firewall on your computer.
Consider paying for Hot Spot access. Many sites charge one-time or ongoing fees for access, and thus are less likely hacker targets.
Ask free access providers about security issues before turning on your computer.
Turn off "file sharing" on your computer. This helps seal your files from others on the network. This can be done in the "folder options" or "network connections" area of your computer's control panel.
Ask your company if they have installed a Virtual Private Network. All communications across a VPN are encrypted, so your interaction with your company network will remain hidden, though other actions on your computer are not affected by VPN.
Password-protect sensitive files.
DON'Ts ?Keep your wireless device on if you are not connected to the network. Turning off your computer or removing your wireless card when logged off will help protect your files from those who are on the wireless network.
Perform any financial transactions in a Hot Spot.
Send private or sensitive information over a wireless connection. Imagine that everything you send over a network is printed on a postcard, for all the world to see.
Assume a potential data or identity thief is visible. Just because you don't see another computer user in the coffee shop does not mean there isn't one in the above apartment or in a car outside the shop.
Let your anti-virus software expire - An unprotected computer will be infected with a virus or spyware within about 15 seconds of being on-line.
Ignore your Windows update box. When the small box in the lower right hand corner of your computer tells you that updates are available, always take the opportunity to update your system and protect your identity.
Source - Staff Research, Rescucom Corp.
Google Reviews

Harmony Wentz
a month ago
Roy was very helpful and assisted me in setting up my computer quickly!
...
Roy was very helpful and assisted me in setting up my computer quickly!

less

americasministorage
a month ago
First experience with Rescuecom and the tech did an amazing job. Solved all of my issues. I highly r
...
First experience with Rescuecom and the tech did an amazing job. Solved all of my issues. I highly recommend them to anyone.

less

pat tracy
3 months ago
Roy did an excellent job retrieving lost email folders. I really appreciated his time and efforts.
...
Roy did an excellent job retrieving lost email folders. I really appreciated his time and efforts.

less

Valley View Self Storage
4 months ago
We highly recommend Rescuecom Corporation. We needed immediate help with our office computer and ge
...
We highly recommend Rescuecom Corporation. We needed immediate help with our office computer and getting us back up and running they were very through and great to work with.

less
View all Google reviews
Featured in: