Apple Tops Initial Computer Reliability Report from RESCUECOM
Smart Computing Magazine
News and Views
January 2007- '95 Vol.18 Issue 1
Page(s) 6-10 in print issue:
Tech News and Notes
DESKTOPS and LAPTOPS
IBM/Lenovo, Apple Top Computer Reliability Study
When the majority of today's computer manufacturers constantly tout their own machines as the most reliable in the industry, it's tough to get a handle on which computers actually are reliable. Systems often vary widely in their hardware and software configurations, so even similar models from the same manufacturer can easily differ when it comes to reliability.
Yet, trends begin to appear when you hear from the trenches of computer repair. In fact, a recent study by RESCUECOM (), a national computer repair and support company, revealed striking differences among some of the biggest players in the industry.
The first annual RESCUECOM Computer Reliability Report used information based on more than 20,000 service calls, compared it against the market share of computer vendors, and developed rankings based on that data that calculated the percentage difference between vendors' overall U.S. market share and the percentage of calls placed to RESCUECOM regarding computers built by those particular vendors.
Leading the pack was IBM/ Lenovo, with a score of 243, trailed closely by Apple, with a score of 201. From there, the scores dropped drastically, with HP/Compaq earning a score of 12, Dell scoring 4, Gateway scoring -12, and other vendors scoring a combined -16.
"Whether it's due to hardware quality or vendor customer support, clearly IBM/Lenovo and Apple are well ahead of their rivals when it comes to reliability," said David A. Milman, founder and CEO of RESCUECOM, in a release.
In the report, RESCUECOM notes that despite the scores, the reliability of HP/Compaq, Dell, and Gateway are nonetheless solid, and calls to the RESCUECOM call center about HP/Compaq and Dell "were less likely to have been placed than their market share would indicate." The repair company also recommends sticking with "the names you know," because the reliability score for less popular vendors (those in the "Others" category) was much lower than the scores for some of the other major brands.
Although the study gives an indication of reliability from a third-party repair perspective, it doesn't take into consideration the number of users who rely on the vendors' warranty services or other vendor-specific repair programs for issues with their computers. For example, if Apple customers are primarily contacting Apple to handle their computer problems, it's likely those customers wouldn't also contact a third-party service such as RESCUECOM. Further, users of computers with a heavy enterprise presence--such as those manufactured by IBM/Lenovo--could be more likely to rely on in-house support than a third-party repair service.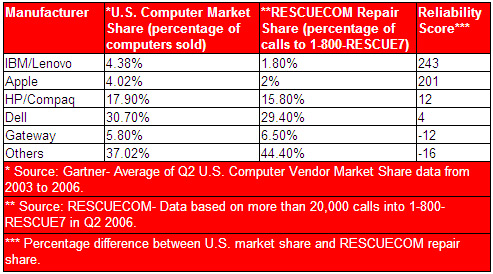 Google Reviews

Carol Vaupel
a month ago
I would give him 5 stars.
...
I would give him 5 stars.

less

Cynthia B. McCoy
a month ago

Sue Baran
a month ago
Jim P. was very good in explaining why a call was inputted and explained the updates that he was goi
...
Jim P. was very good in explaining why a call was inputted and explained the updates that he was going to do from both Windows and Rescuecom. After completed he helped with some boot up programs to be disabled to help give me a little more "speed" in startup. Great experience.

less

Jan Jones
a month ago
...
Excellent Service!

less
View all Google reviews
Featured in: