Best Tech Gift For Holidays: Microsoft Surface
Microsoft seizes the coveted first place position in the 2020 Holiday RESCUECOM Computer Reliability Report; Lenovo and Apple are right behind.
SYRACUSE, N.Y., October 13, 2020 – Microsoft is first in computer reliability according to RESCUECOM's annual holiday computer reliability report; Lenovo takes second place and Apple wins the bronze medal.
Choose Microsoft Surface for Reliable Gifts
This holiday season, a Microsoft Surface is the best choice for shoppers prioritizing computer reliability. Once maligned for failing to secure their systems against bugs and viruses, Microsoft now outpaces competitors at producing reliable computers that save their owners future computer repair costs.
"When you buy a Surface, you are essentially purchasing protection against the kind of problems that regularly take down other computers," says RESCUECOM CEO David A. Milman. "Microsoft is making products with computer reliability leagues beyond what other brands are doing, and it is paying off for their customers."
Microsoft's investment in building well-running machines comes at a cost, as computers from the Surface line are far from cheap. However, there are options for customers on a budget valuing Microsoft's computer reliability. The Surface Go 2 costs under $400 - ideal for those who want an affordable tablet with high PC reliability.
Other Reliable Brands for Your Shopping List
Customers committed to purchasing from brands with impressive computer reliability may also consider Lenovo and Apple. Besides ranking second in PC reliability, Lenovo provides computers of different makes and models to fulfill every purpose - many at a lower cost than their competitors. Lenovo's IdeaPad line is a win-win for shoppers on a budget, pairing modern designs and competitive prices with great PC reliability.
Mac devotees can rest assured that Apple continues to make reliable computers, lessening the need for future Mac computer repair. The MacBook Pro is a standout, receiving glowing reviews from the New York Times and The Verge this year. However, since Apple products remain famously expensive, customers will have to dig deeper into their bank accounts to purchase an Apple desktop, laptop, or tablet.
Asus ranks only two points below Apple in computer reliability this season. A company known for innovative gaming computers, Asus pairs solid computer reliability with stylish, unique design. Customers wanting an eye-catching laptop backed by PC reliability may consider their Zephyrus G14, which features an LED-covered lid capable of displaying pictures, text, and animated GIFs.
Less Reliable Brands
In the lower half of the rankings are HP and Dell. Both companies offer less expensive computers that may attract customers looking for a bargain, but the tradeoff in PC reliability is a disincentive to purchasing one of these brands.
Acer and Samsung scored lowest in computer reliability, with both brands breaking down at a higher rate than all others. Potential buyers should know these brands have a greater chance of requiring computer repair or data recovery. Although using cheaper components makes Acer and Samsung computers more affordable, it is not worth the tradeoff in lower PC reliability.
| Brand | U.S. Computer Market Share | RESCUECOM Computer Share1 | Reliability Score2 | Reliability Grade3 |
| --- | --- | --- | --- | --- |
| 1. Microsoft | 4.4% | 1.42% | 235 | A+ |
| 2. Lenovo | 15.6% | 6.2% | 189 | A |
| 3. Apple | 13% | 8.63% | 114 | B+ |
| 4. Asus | 4.4% | 3% | 112 | B |
| 5. HP | 32.8% | 24.64% | 100 | C |
| 6. Dell | 26.1% | 20.93% | 94 | C- |
| 7. Acer | 2.7% | 2.66% | 77 | D+ |
| 8. Samsung | 1% | 2.53% | 30 | D- |
1 - Brand's percentage share of calls into RESCUECOM call center.
2 - Calculated percentage of computers released on the market against the number of repair calls per brand.
3 - Assigned by RESCUECOM to simplify the reliability scoring system.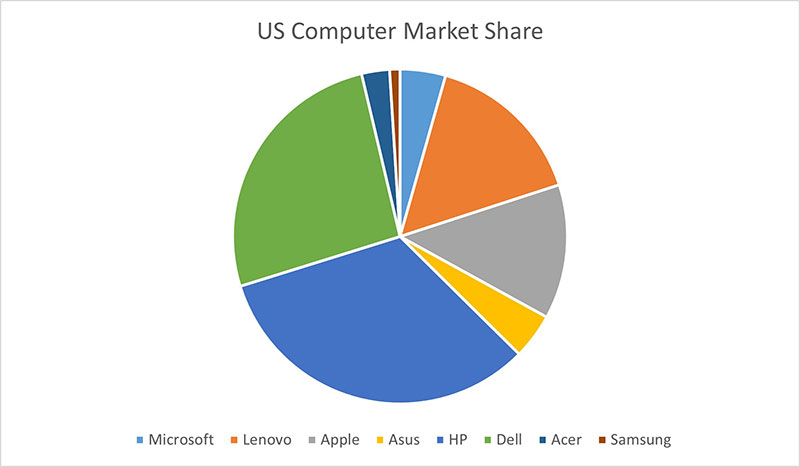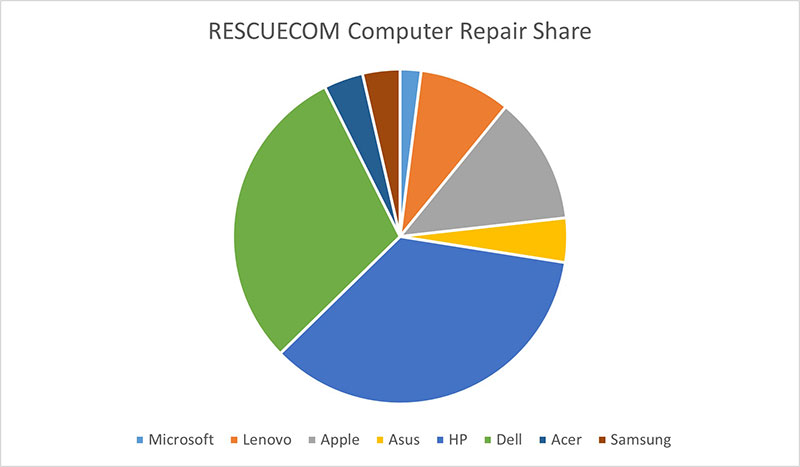 Google Reviews

Tammy Ironvando
3 weeks ago
Jim has been very responsive and professional and answered every phone call when I had technical iss
...
Jim has been very responsive and professional and answered every phone call when I had technical issues. I am very happy with the service and the friendly outcome that I encountered. Take a chance on rescuecom, they know what they are doing when it comes to security and technical issues. This is not just a company for small fixes its a guaranteed service with a smile. David is the owner and he helped me out when I told him about my dilemma when my computer got hacked. He spent time explaining all about rescuecom and how it works. Now my time on the computer will be stress free knowing I have David and Jim on my side. I walked out of the business with a healthy computer and my questions answered. Peace Of Mind is the key.

less

Richard Weatherford
4 weeks ago
Called on a Saturday with quite a few business computer issues. Jim was very detailed in every expla
...
Called on a Saturday with quite a few business computer issues. Jim was very detailed in every explanation regarding each of my concerns. Immediately hired Rescuecom. Jim has been with me every step of the way. Setting up new accounts. Removing four viruses from our business computer. The list goes on and on. I can not thank Jim and Rescuecom enough. Highly recommended!

less Roy Manvell
a month ago
RESCUECOM tech was very skilled
...
RESCUECOM tech was very skilled

less

Patricia Farr
a month ago
Rescuecom has once again rescued me. This time from a potential identity theft situation, and then a
...
Rescuecom has once again rescued me. This time from a potential identity theft situation, and then after solving that, updating all security and operating systems. All with incredible patience and expertise in what for me was a very distressing situation. My level 3 tech Maddy spent literally days getting everything straightened out and David gave me some tips and advice that I have used. The technicians at Rescuecom are for me the best and most professional, and are always there to help quickly, with understanding and kindness, when you need them most.

less
View all Google reviews
Featured in: