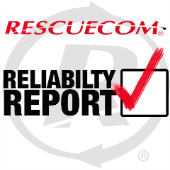 RESCUECOM announces the results of the 2014 Q2 Computer Reliability Report; Samsung and Apple remain strong in the rankings and Asus rises to third place!
SYRACUSE, N.Y. August 19 2014 – RESCUECOM's Computer Reliability Report for the second quarter of 2014 shows Samsung maintaining its position as the top manufacturer in computer reliability.  Samsung kept its spot at the top of the computer reliability rankings for the second straight quarter, holding firm against its competition.  Asus made the largest gain of any manufacturer this quarter.  The company's computer reliability score jumped up thirty-two points from the previous report. Asus was sixth place in the computer reliability rankings for the first quarter of 2014.  However, the company ascended to third place for the second quarter.  Apple has climbed to the number two position in computer reliability after another strong quarter.
RESCUECOM determines computer reliability scores by comparing the market share of a manufacturer's shipped computers and tablets to the percentage of computer repair and tablet repair calls received by RESCUECOM's Certified Level-3 Technicians for that manufacturer's products.
Reliability grades are a brand new feature of RESCUECOM's computer reliability reports.  These computer reliability grades give people an even stronger understanding of each computer manufacturer's reliability.  RESCUECOM Certified Level-3 technicians determine a company's computer reliability grade by analyzing its computer reliability score and forming a consensus about the grade that company deserves for a given quarter.  Computer reliability grades add a new dimension to RESCUECOM's computer reliability reports by providing people expert insight from the RESCUECOM Certified Level-3 technicians who take tech support service calls every day.
The rankings for the 2014 Q2 Computer Reliability Report are as follows:
Manufacturer

U.S. Computer/Tablet Market Share2
(Percentage of Share computers shipped)

RESCUECOM Computer/Tablet Repair Share1
(Percentage of service calls to 1-800-RESCUE-PC)

Reliability Score1

Reliability Grade

SAMSUNG

11.2%

2.8%

392

  A+

APPLE

22.9%

7.9%

290

A

ASUS

4.0%

3.0%

133

B

IBM/LENOVO

7.2%

6.4%

113

  C+

TOSHIBA

3.8%

3.9%

97

  C-

DELL

16.3%

26.9%

60

 D

HP

16.8%

28.9%

58

 D

ACER

3.8%

16.2%

23

 F
1 – Computer repair share percentages and computer reliability scores include tablets.
2 – The computer reliability report does not include "other" manufacturers, defined as all manufacturers that have below 1.0% market share.
3 – Market share numbers are provided by IDC.
Samsung was the only manufacturer that managed to obtain a computer reliability grade of A+.  Continually strong performer Apple managed to obtain an A grade as well.  Acer was the only company that earned a failing grade of F.  Acer's struggle should come as no shock to anyone who regularly reads RESCUECOM's computer reliability reports. The company has historically been the worst performer on the RESCUECOM computer reliability report.
Asus's gain of over thirty points in its computer reliability score was the largest improvement of any brand in the report.  However, for Asus to be a true contender for the top spot in computer reliability, there would need to be some significant gains in product performance.  The company's computer reliability grade of B clearly marks them as a step down from current leaders Samsung and Apple.
The introduction of computer reliability grades adds a new layer to all future computer reliability reports.  It will be interesting to see which manufacturers manage to maintain or improve their computer reliability grades in the future.
About RESCUECOM:
RESCUECOM provides computer repair and computer support, 24/7: Meeting every tech support need including data recovery, virus removal, networking, wireless services, and computer support for all brands of hardware and software. For computer support or information on products, services, or computer repair, visit https://www.rescuecom.com or call 1-800-RESCUE-PC.
For More Information, Contact:
Media Relations
pr@rescuecom.com
1-315-882-1100
Filed under: computer repair, Computer Support