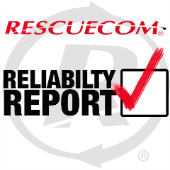 The computer and tablet reliability scores are in for the 2015 RESCUECOM Computer Reliability Report, bringing in some new names in the tablet market.
Most of the big names from previous reports have once again claimed a spot in the rankings for 2015, though several have notably risen or fallen in reliability score. Along with shifts in rankings among the report's regulars, there are a couple of newcomers making a splash in the tablet world this year.
The full reliability rankings for the 2015 Computer Reliability Report are as follows:
Manufacturer
U.S. Computer/Tablet Market Share1, 3
(Percentage of Share computers shipped)
RESCUECOM Computer/Tablet Repair Share1, 2
(Percentage of service calls to 1-800-RESCUE-PC)
Reliability Score1, 2

Reliability Grade
AMAZON
3.1%
0.1%
2523
    A+
SAMSUNG
9%
1.9%
488
    A-
APPLE
23.4%
4.8%
485
    A-
LENOVO
4.7%
3.0%
157
    B
ASUS
3.6%
3.6%
99
    B-
DELL
10.6%
14.0%
75
    C+
TOSHIBA
2.9%
4.1%
70
    C
HP
14%
21.4%
66
    D
1 – Computer repair share percentages and computer reliability scores include tablets.
2 – The computer reliability report does not include "other" manufacturers, defined as all manufacturers that have below 1.0% market share.
3 – Market share numbers are provided by IDC.
Amazon has the second lowest market share out of the major contenders, but its products have earned themselves a high reliability grade. With a higher reliability score than all of the competition put together, Amazon has claimed a commanding lead in the 2015 Computer Reliability Report. Worth noting is that Amazon is the only manufacturer in this report that makes exclusively tablets. According to RESCUECOM CEO David Milman, "Amazon is a good example of a company that has really benefited from focusing on one product, the Kindle Tablets."
Coming in at second and third place are two manufacturers commonly competing for the top of the reliability rankings—Samsung and Apple. These two companies have frequently been neck and neck in the reliability race, and that trend continues in 2015. In overall reliability score, the manufacturers are a mere three points apart, almost tying for second. Worth noting, however, is the wide gap in market share. "Apple maintains a low number of computer repair calls despite claiming almost a quarter of the entire computer and tablet market," Milman explains, "whereas Samsung has a significant but smaller nine percent."
Lenovo marks the mid-range in the rankings, with Asus coming in behind it. While still reliable enough to have made the top five, there is a significant gap between the reliability scores of these manufacturers and the top-ranking competitors. Both achieve decent reliability grades of "B" and "B-", respectively, with each manufacturer demonstrating solid reliability.
Toshiba users have experienced a significant decrease in reliability this year. Normally Toshiba scores well above its current ranking between HP and Dell. This sudden drop in reliability is a surprise, and RESCUECOM will be watching the manufacturer to see if it can pull back to a higher score in the coming year.
Dell and HP have alternated positions in previous computer reliability reports, towards the bottom of the reliability rankings. Dell, however, has managed to surpass not only HP but Toshiba as well, earning itself a "C+" reliability grade for 2015. HP remains at the bottom of the reliability scores, and is the only manufacturer to receive a reliability grade below "C".
A new rule has been established now requiring newcomers to the computer and tablet market to perform for over a year prior to their inclusion in the RESCUECOM Computer Reliability Report. Two newcomers affected by this new rule, RCA and Verizon, both have respectable tablet sales in the U.S. The new rule will improve the integrity of the RESCUECOM Computer Reliability Report by observing newcomers throughout the year before comparing them to longstanding computer and tablet manufacturers.
There have been several interesting developments in ranking for 2015. Not only did Amazon surpass Apple and Samsung for the number one position, but the tail end of the rankings have been fluctuating from the norm as well. The regular contenders for reliability rankings and newcomers will both need to race to increase their reliability scores throughout the coming year as they fight for the top spot in computer and tablet reliability.
About RESCUECOM:
RESCUECOM provides comprehensive computer repair and support services, including tech support for all hardware and software, business technology services, data recovery and virus removal.  RESCUECOM Certified Level-3 technicians provide immediate computer support through our patented iProtector® and SYSTEM ONE® software at the click of a button. To learn more about RESCUECOM's products and services visit https://www.rescuecom.com or call 1-800-RESCUE-PC (1-800-737-2837).
For More Information, Contact:
Media Relations
pr@rescuecom.com
1-315-882-1100
Filed under: Amazon.com, apple, ASUS, Computer Reliability Report, hp, lenovo, performance, rescuecom, Samsung, technology, Toshiba, Verizon