About RESCUECOM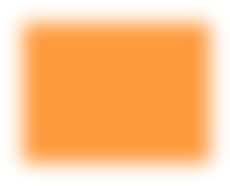 FOR IMMEDIATE RELEASE:
October 16, 2006:

RESCUECOM Issues first annual RESCUECOM Computer Reliability ReportDell, Gateway, "Others" Trail in National Computer Ratings

Quality, Customer Service, Support and Warranty Strength are Factors in First Annual National RESCUECOM Computer Reliability Report

Syracuse, NY - October 16, 2006 -- RESCUECOM, a national computer repair and support company, announced today the results of the first annual RESCUECOM Computer Reliability Report, an analysis that compares computer vendors' market share with consumer service call data from RESCUECOM's 1-800-RESCUE-PC call center. Results of the report - based on over 20,000 service calls to RESCUECOM -- provide computer users with unique insight about the likelihood that they will require support beyond what is provided by their computer vendor of choice.

"When people purchase computers they want to know about reliability,'' said David A. Milman, founder and CEO of RESCUECOM. "We're constantly asked our opinion about the best computers to buy. The RESCUECOM Computer Reliability Report helps address this question and can be used as a helpful tool for those in the market for a new computer."

The Report calculated the following "Reliability Scores" for each computer vendor based on the percentage difference between their overall U.S. market share and the percentage of calls into the RESCUECOM call center about the particular computer vendor. The higher the score, the less likely it was that calls about the specific computer vendor to the RESCUECOM call center were received (scores are in parentheses).

-IBM/Lenovo (243)
-Apple (201)
-HP/Compaq (12)
-Dell (4)
-Gateway (-12)
-Others (-16)

Reliability Scores are based on a comparison of RESCUECOM's Q2 2006 call center data with computer vendor market share data for the U.S. from the last four years (data taken from Gartner second quarter U.S. computer vendor market share data from 2003 to 2006).

"Whether it's due to hardware quality or vendor customer support, clearly IBM/Lenovo and Apple are well ahead of their rivals when it comes to reliability," added Milman. "We're pleased to be able to offer this insight to help RESCUECOM customers and all computer users make informed choices when deciding which computer they should buy."

The data also suggest that consumers should:

-Stick with the names you know -- The Reliability Score for less popular vendor's computers (in the "other "category") was much lower than that of the top computer vendors, likely indicating lower reliability based on quality and or service.

-Realize that the reliability of HP/Compaq, Dell and Gateway are solid, though potentially less so than Lenovo/IBM and Apple - While Reliability Scores for HP/Compact and Dell indicated they were generally "reliable" and calls about them to the RESCUECOM call center were less likely to have been placed than their market share would indicate, their Reliability Score's were significantly below that of rivals Lenovo/IBM and Apple.

Below is Data used to calculate "Reliability Scores" for the "RESCUECOM Computer Reliability Report"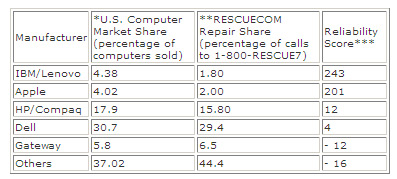 * Source: Gartner - Average of Q2 U.S. Computer Vendor Market Share data from 2003-2006.

** Source: RESCUECOM - Data based on more than 20,000 calls into 1-800-RESCUE-PC in Q2 '06.
** Percentage difference between U.S. Market Share and RESCUECOM Repair Share.

u


About RESCUECOM

RESCUECOM provides fast and flawless on-site computer repair and support, 24/7/365. All local RESCUECOM franchisees offer guaranteed results and on-site, emergency one-hour response service with or without a contract, providing the industry's fastest response and easiest relationship.

RESCUECOM services everything from home computers to super computers, wireless Internet to global networks, hardware to software, e-mail to ERP. In addition to one-time, on-site solutions for virtually any computer problem, RESCUECOM provides comprehensive, ongoing IT management services for businesses. RESCUECOM has been recognized by Entrepreneur Magazine in 2002, 2003, 2004 and 2006 as part of the "Franchise 500," as one of the fastest growing franchise companies in the United States. For more information, please visit www.RESCUECOM.com or call 1-800-RESCUE-PC.





For More Information, Contact:
Christina Johnson, PR Specialist
1-800-737-2837
cjohnson@rescuecom.com
---
© 2009 RESCUECOM Corporation