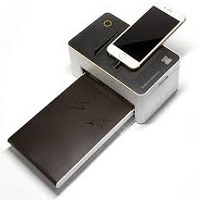 Kodak is not only one of the oldest continuously operating businesses in America and the world, but it was one of the first to sell cameras, film, and other accessories commercially. While it has had struggles adapting to changing technology in the more recent past, it has since found ways to keep up in the growing tech market. One of its most creative, innovative, and most advanced products thus far is its PD-450 dock and wifi photo printer. Technology in photography had grown well past the point of taking and holding physical pictures, not to mention the vast improvements in quality, and mobile technology has taken it further than that. With the PD-450, Kodak has found a way to merge both into something even better.
While digital photography with a smartphone or digital camera is generally higher-quality than physical photos as well as providing the added benefit of saving the time and hassle that comes with developing them, it can be limited to computers, mobile devices, and social media. Some people do want to have photos available where they and those they care about can always see them. Kodak's PD-450 really does it all. Featuring compatibility with mobile devices running Android or iOS with accompanying docks and adapters, it lets your print photos directly from your smartphone. Kodak promises brilliant color and stunning detail with thermal transfer technology that ensures there is no bleeding or fading. It can store a lot of photos, but it does include additional memory connections for any enabled smartphone, tablet, Digital Camera, or USB Memory Stick.
The PD-450 offers a free app to open up more options like filters, stickers, card templates, a collage maker, and additional things for adding unique touches. That you will need expert help when you want a fix is obvious, but you will need a computer repair provider that can provides solutions for the most advanced tech when you require a fix for this particular piece of technology. Additional features include the ability to charge up to two mobile devices anytime you need to, and its unique charging dock delivers power to any such device more quickly than your standard HDMI device-to-device charger. This makes it even more ideal for work at an office, school, or home. When it comes to tech in photography, Kodak has made it clear it can keep up with its PD-450 dock and wifi photo printer.
Filed under: technology