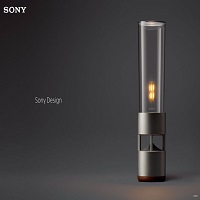 Bluetooth speakers are a major convenience for listening to anything you want anywhere you are in your home or even at work with the greatest convenience. They are not typically a decor piece, however, and very few look particularly unique in comparison to others. There are some Bluetooth speakers designed to offer a distinctive look or even equipped with lights, but there is still no mistaking them for anything but what they are. This has been true up to now, that is, thanks to Sony's LSPX-S1 Glass Sound speaker, a Bluetooth-enabled speaker that provides all the same features it should but with a much more artistic flair. It is candle-like in appearance, with LED lights that gleam like a refracted candle flame inside a glass flute-like structure.
Like any other of its kind, the LSPX-S1 has full Bluetooth capability to pair with your smartphone or tablet, so you will need expert care for your mobile device to keep the speakers working in conjunction with it. This speaker is all about design, made to be a centerpiece as much as a functional device. Its transparent body contains a built-in LED light that you can dim with your mobile device for mood lighting or to fit any particular ambience depending on where you place it. In keeping with its aesthetic, there are only a few ports hidden in the back of its base to give away that it is more than a design piece. There are some issues with the bass and it only has a four hour battery life, but you can keep it plugged in if that does not take too much away from the desired visual appeal.
It may be difficult to remember given its design that the LSPX-S1 is a tech device and may require a tech specialist to fix rather than a handyman. You can have as many as you like wherever you like to play anything you want, though that could be cost-prohibitive. It is important to know that at nearly $800, these speakers are most definitely an indulgence, but one that combines the best of form and function, as it were. It delivers good sound at a moderate volume, and the ability to change volume or the lighting is available either on your linked device or hidden on the base of the unit. If you are looking for a Bluetooth speaker and are willing to pay more for its beautiful design, then Sony's Glass Sound speaker is for you.
Filed under: technology