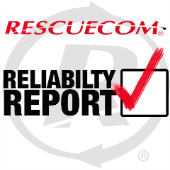 RESCUECOM created the 2015 Q2 Computer Repair Report by studying and collecting the data from each service call we received this to create a list of the top ten most common problems users face on all computers and mobile devices. While there are a number of problems users frequently face, this quarter has shown a surprisingly steep growth in one area in particular.
The 2015 Q2 Computer Repair Report top ten problems users experience, along with tips on how to solve or prevent each problem, are as follows:
Rank

#

Problem
%
Tips
1
Windows App Issues
50.5%
Check for latest version; Update app/device; Uninstall, then reinstall app
2
Viruses/
Malware
13.9%
Always keep virus protection and Internet security software running
3
Slow Computer
6.6%
Perform cleaning and maintenance regularly; Keep Internet security software definitions up to date
4
Internet Connection
6.0%
Check Internet security software firewall; Power cycle (Properly shutdown and unplug for thirty seconds before turning back on) modem and/or router
5
Windows O.S. (Operating System) Issues
4.5%
Turn on (and run) Windows updates
6
Email Trouble
4.4%
Check firewall settings; Confirm email provider is not having difficulty
7
Printer Problems
3.3%
Keep stocked with paper and toner; Check cable connections for loose or unplugged connections; Power cycle printer
8
Hardware Repair
3.0%
Keep all devices on a UPS (Uninterruptable Power Supply) with surge protection; Keep equipment clean and free of dust and debris
9
Data Recovery
2.3%
Have a regular back up routine to a cloud data storage company; Microsoft OneDrive and Google Drive are two good free options
10
Startup Problems
2.1%
Keep Internet security software definitions and licensing up to date; Make sure automatic windows updates are turned on; Only turn off computer from within Windows and NEVER shut down in the middle of an update
Rescuecom has grouped these problems into convenient categories, with each of the most common tech difficulties and tips to fix or prevent them explained in detail below. It is worth noting that one of the best ways to avoid problems across all categories is to educate yourself on the proper use of your tech device from websites like Khan Academy.
Software:
In this quarter, Windows app issues have jumped nearly 20% and now outweigh every other issue by a large margin, making up more than half of the problems RESCUECOM now addresses. When apps are not functioning properly, your first step should be making sure everything is up to date. Make sure you install the latest version of the app and update both the app and your computer. At times, simply uninstalling and reinstalling the app will fix the issue.
Coming in at third, 6.6% of customer calls concerned slow computer performance. While numerous things can cause a computer to run slowly, you can often stave off the issue by taking proper care of your computer preventatively. The best remedy is monthly maintenance such as cleaning up the computer and removing any unnecessary programs.
Email trouble accounted for 4.4% of calls, and it is important to update profiles and account info often. The problem could be a network connection or in rarer situations a virus issue, but the best solution is to maintain your software regularly and make sure to remember your password.
Windows O.S. Issues dropped by just over .5% since last quarter. The main thing with any operating system, whether for Mac, PC, or any mobile device, is to make sure that you optimize your device frequently and keep your system current, updating your O.S. and drivers as frequently as possible.
Internet Security and Networking:
The first things that come to mind when preparing for technology Internet security are viruses and malware. These threats can lead to all sorts of dilemmas such as identity theft, pop ups getting in your way, or slowing down your computer. For this reason, it is vital to run Internet security software such as the RESCUECOM Internet Security Suite at all times and keep it up to date to protect your computer.
Internet connection issues can be problems with a modem or router, the result of viruses or malware, or it could be an outage from your Internet service provider. You can easily reset your modem when needed, but the most important thing is to keep maintaining your hardware.
Hardware:
The main hardware problem this quarter was printer failures. When your printer does not print properly, it may be as simple as making sure you properly connect and stock the printer or power cycle it. Other causes could be driver issues, network connection problems, or even some malware or viruses.
Coming in at 3% are problems with PC or tablet hardware repair. This can be a wide range of issues from a broken screen to a faulty hard drive or any other part of your tech device. Solutions to these problems vary depending on what type of hardware has an issue, but you can mitigate hardware issues with constant upkeep and cleaning of your device along with keeping your devices connected to an Uninterrupted Power Supply (UPS) with surge protection.
Data recovery, a less frequent but often difficult problem accounting for 2.3% of the total service calls RESCUECOM received this quarter, most often results from hardware failure. The best way to prevent this is to make multiple backups of your data. One backup may fail, but you can create as many backups as you like to work with until one succeeds, and we suggest a minimum of two.
Summary:
While the computer repair rankings this quarter display a wide range of problems, you can prevent most of them with the proper precautions. It is important that all apps, operating systems, and Internet security definitions are up to date with computers and other tech devices. While there is no way to prevent every problem, in general you can avoid many of the problems found in the 2015 Q2 Computer Repair Report by installing the highest quality Internet security software and keeping all of your devices properly maintained.
---
About RESCUECOM:
RESCUECOM provides the best computer repair and tech support, 24/7. Meeting every computer repair need including virus removal, data recovery, networking, wireless services, and tech support for PC's, MAC's, Tablets, Phones, hardware and software with excellence. For the best tech support or information on products, services, or computer repair, visit https://www.rescuecom.com or call 1-800-RESCUE-PC (1-800-737-2837).
Filed under: computer repair