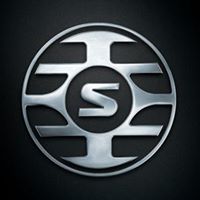 Shure is not exactly a household name, but it is certainly one with which anyone who records music is somewhat familiar. Founded in 1925, it was one of the earliest radio parts wholesale companies to exist today. In that time, it has become a global leader in audio electronics. Its specialty is designing mics for music, so it should come as no surprise, given their ability to adapt to technology from the early 20th century into this one, that they have developed microphone technology for current tech. Shure has realized this no more evidently than with the MV5 iOS digital condenser microphone, one of the most innovative recording devices on the market. It has USB connectivity, ideal for recording vocals, acoustic instruments, and podcasts, but it is obviously also suitable for anything that can make use of a USB microphone. The unit itself has a headphone jack built-in, volume control and DSP (Digital Signal Processing) options as well.
Like everything in Shure's Motiv line, you will want a connection to specialists who can handle all types of devices when one requires an expert fix for a disastrous system failure. It is fully compatible with every iOS and Android devices as well as Mac and PC, the only requirement being reasonably up-to-date specs. To use it, you can download Shure's free Motiv app from the App Store, turning your device into a high quality audio recorder complete with an abundance of features. The included DSP presets of vocals, flat, and instrumental sound ensure the ideal settings for capturing just about any sound source, making it an excellent recording device for everything from home-recording music to podcasting to computer or mobile video chats.
The MV5 has a retro design complete with a detachable desktop stand, so not every professional repair need will be technical. That said, it does feature high quality and durability, particularly for its size. While other, much more expensive models will offer more as far as range of options and sound quality, this one nearly matches them for under $100, and the MV5 is even more portable and versatile. For those who want the best sound quality it can deliver without having to make too much adjustment, it is advanced enough to automatically adjust factors that affect the sound such as gain, EQ, compression, and limiting based on environment and background noise for optimal results. For everything you need in home work, or the best quality you can get in lower-budget music recording, the MV5 is a microphone you should not overlook.
Filed under: technology