Network Services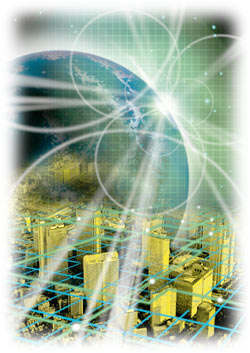 There are an unlimited number of reasons you might want your computers to talk to each other. Computer networks are no longer complicated setups that are only used in large companies. Networks are now just as common in living rooms, as they are in board rooms.

From fixing unreliable connections, to speeding up network connections, and implementing state of the art wireless networks to allow the ultimate in mobility and security for your home or company... RESCUECOM certified technicians deal with all types of network configurations.

Companies need to have the ability for their workers to easily communicate, share files, collaborate and get on-line. Networks make all of this possible.

RESCUECOM not only makes sure your company has the right network for your needs, but that the network is always reliable, fast and easy to use. In a word: flawless.

Networks at home are becoming more and more popular as well. On-line computer games, gaming consoles, streaming music and video, as well as video conferencing for families that live far away are just a few of the possibilities for a computer network in your house.

If you are looking to setup a new network, you need to make sure it's done right the first time. The stress and frustration when you can't get on-line, get your e-mail, or simply can't get it moving fast enough is something that RESCUECOM never wants you to experience.

We will come to you, 24/7 at your convenience to setup a worry-free, safe network, with the security to protect your data and reliability you can count on... RESCUECOM Reliability.

Computer networks are everywhere. What was once solely the domain of big businesses and hardcore computer gamers, has become one of the most common occurrences in our increasingly techno-savvy lifestyles. For years, RESCUECOM has been at the forefront of computer network services, from planning and implementation to computer network support and maintenance .

Whether you need to wire your home so someone can play games in the family room while someone else works in the study, or you need a network that lets the CEO on the 35th floor print a document at the receptionist's desk in the lobby, RESCUECOM is your solution. RESCUECOM offers a full selection of computer network services, and with our team of techs always on call, you will always have all of the computer network support you'll ever need – fast, flawless and 24/7.
---
© 2009 RESCUECOM Corporation